Protect your Video Game Collection with Video Game Box Protectors, Defenders and Acrylic Game Cases!
#1 Video Game Box protectors and Acrylic Cases in Canada, we ship Canada wide and to the USA. All shipping charges are calculated based on Canada Post generated rates, so you are ensured accurate shipping prices at checkout.
Canadians, avoid the expensive imports, duties, excessive shipping charges and currency exchange rates. All prices are in Canadian dollars, so you will have no costly surprises.

Box Protectors
Keep your collection clean, safe and dust free for years to come. The cheapest way to protect and enhance your collection with Box Protectors made from archival grade PET, the protectors will not yellow or become brittle over time.
All protectors ship with a protective peelable film to keep them clean and fresh until you are ready to put them on your shelf.
Acrylic Cases
Want the premium look and feel of a graded game, but don't want to pay hefty fees and still wait months to get your games back? Our Acrylic cases are made from moderate UV blocking acrylic plastic designed with thick 4mm acrylic, for your most valuable collectibles.
Looking For More Than 1 Video Game Console Protector?
Bundle up and save, all console bundles include shipping, so save money now buy combining shipping and pick up all your large console protectors at once!
News and Updates
30+ New sizes added - SHOP NEW SIZES IN STOCK HERE
ACRYLIC CASES AVAILABLE NOW - SHOP ACRYLIC GAME CASES HERE
Looking to order more than 1 video game console protector? Save money with our BUNDLE BUILDER HERE
Preview our NEW ITEMS COMING SOON HERE

Video game protectors, handheld console protectors / handheld system protectors and video game console protectors for various popular brands like Nintendo, Playstation, Sega, Xbox and more! With an ever expanding selection, we strive to have the best selection of videogame box protectors at a cheap and affordable price.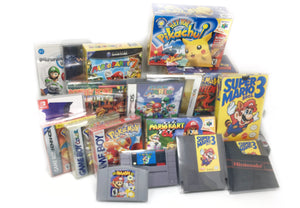 Satisfaction Guaranteed !
If you are not 100% satisfied with your purchase, please reach out through email info@videogameboxdefender.com or using the "message us" button. We will do everything we can to leave you satisfied.